O.S. OMA-3820-1200 Review
http://www.osengines.com/motors/index.html
By Ken Myers April 2012

Forward
I purchased two O.S. Motor OMA-3820-1200 brushless outrunner motors for a sport twin project.
Last fall I purchased the O.S. Motor OMA-3825-750 for a "club trainer" ARF. I found the fit and finish of the outrunner motors to be very nice on all three. I do not take my motors apart when testing them, so I have no comments about the actual construction. The OMA-3825-750 performed well through the remainder of the 2011 flying season and continues to perform well this year using a 4S1P "A123" 2300mAh battery pack and an APC 12x8E prop.
The twin, about 725 sq.in. and about six pounds, uses a 3S2P "A123" 4600mAh pack. That is two 3S "A123" 2300mAh packs in parallel.
I have a lot of experience with 3S "A123" 2300mAh power systems. I use a Hyperion HP-Z3019-10 (3744-1220, 160g) in my Son of Swallow, a Scorpion S-3020-11 (3838-1230, 154g) in the Fusion 380 and a Scorpion SII-3014-1220 (3840-1220, 129g) in a parkzone T-28. All three 3S "A123" 2300mAh systems use a Master Airscrew 10x8 G/F Series 3 prop and initially draw about 35 amps at 8.6 volts for about 300 watts in.
Generic naming helps to identify similar motors.
The OMA-3820-1200, whose generic name (can diameter mm, can length mm dash Kv, wt. in grams) is, according to O.S. Engines/Motors, a 3843-1200, 155g. It looked like a good choice for the twin. The Kv, as will be demonstrated, is closer to 1245.
A list of similar motors that I own:
Hyperion HP-Z3019-10 (3744-1220, 160g)
Scorpion S-3020-11 (3838-1230, 154g) Note: I had the 11-turn wound by Dan at gobrushless.com.
Scorpion SII-3014-1220 (3840-1220, 129g)
AXI Gold 2820/10 (3548-1200, 151g)
Using the generic naming demonstrates that these are quite similar motors by the outside dimensions of diameter and length, Kv and weight. The Scorpion SII-3014-1220 is a bit lighter but still "in the ballpark."
Part of the reason for my purchase of several of the Scorpion motors has been my perceived value. I have two more Scorpion S-4035-250s waiting for homes in two large biplanes and a Scorpion SII-3026-710 in my Super Stearman. The quality of the motors appears to be very good and the service and information provided on the Innov8tive Designs Web site is top notch! Great job Lucien Miller! The product, service and information are all part of my perceived value.
Unfortunately, the Scorpion line of outrunners has passed my perceived value price point due to substantial price increases. That is why I purchased my first O.S. OMA-3825-750. It was less expensive than the equivalent motor from Innov8tive Designs for either the Scorpion or Cobra lines.
While the information provided by O.S., and therefore Tower Hobbies, proved to be inaccurate for all three motors, I have never found a problem with service from Tower Hobbies. When I took the price and service into consideration, the O.S. brand seemed to be an okay value.
I am a member of the Tower Hobbies Super Saver club. Members of the Tower Hobbies Super Saver Club are often offered free standard shipping with a minimum purchase of $99 and with the purchase of $100 or more about a 15% discount when using a certain Ad Number Code. If purchased with other items, it is possible to get the motor for about $59.50 delivered. Therefore, I got these two motors for about $119, which is a perceived good value to me.
Manufacturer Specifications & Other Motor Information
O.S. Engines spreads the information and specifications across three pages on its Web site. The homepage (http://www.osengines.com/motors/index.html) shows only four of their motors as of April 2012, although they have more according to the US distributor for them, Tower Hobbies.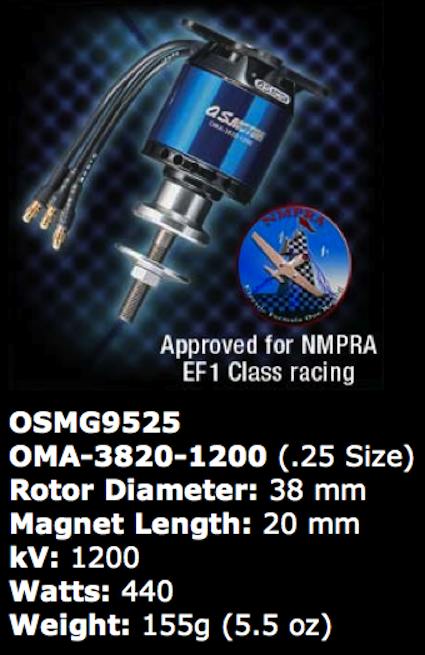 According to the information provided by the image capture from the O.S. Motor homepage, it is supposed to be a .25-size motor when relating it to a glow motor size. It is rated to a maximum of 440 watts in and weighs 155g/5.47 oz.
440 watts in / 11.1v (11.1v, as used here, is the loaded voltage fairly near the beginning of a 3S Li-Poly battery discharge, but after the initial run down at the beginning of the pack. The way that I am using the 11.1v is not in reference to the "nominal" cell voltage multiplied by 3) = 39.6 amps
440 watts in / 14.8v (for a 4 cell Li-Poly) = 29.7 amps
155g motor weight * 3 watts in per gram of motor weight = 465 watts in.
Typical use for fly-on-the-wing type aircraft would be between 235 watts in and 425 watts in for this motor weight.
On the other hand, simply as an illustration, it is the amps passing through the stator wires that is one of the wattage limiting factors. 40 amps * 14.8v = 592 watts in. 592 watts in / 155g of motor weight = 3.82 watts in per gram of motor weight.
An important piece of information about this outrunner motor is that it is "Approved for NMPRA EF1 Class racing".
http://www.nmpra.org/rules/EF1NewRules_5_%5B1%5D.pdf
Because it is a 'racing' motor, the motor is designed to turn a relatively small diameter, high pitched prop at high RPM. It also means that the motor, like the rest of the equipment making up a racing plane, is expendable to the racer.
According to the EF1 New Rules, the battery is to be a 4-cell Lithium Polymer weighing not more than 325g with wire and connectors and ONLY an unmodified, except for balancing, APC 8x8E thin electric prop is to be used.
As evidenced later in this review, an APC 8x8E, with a GOOD 4S Li-Poly, statically pulls about 58 amps for about 865 watts in. That is just a little less than twice the O.S. maximum recommended wattage for this motor. With an RPM of about 14,900 the static pitch speed is 112 mph. At 58 amps the drive efficiency is still about 75% providing about 670 watts out or about 0.9 shaft horse power (shp). That equates to 865 watts in / 155g motor weight = 5.58 watts in per gram of motor weight. Typically 3 watts in per gram of motor weight is considered the high end for typical fly-on-the-wing flying and 3.5 watts in per gram of motor weight to 4 watts in per gram of motor weight the high end for burst type flying such as 3-D aerobatics or the fast climbing soaring types.
The online specification sheet (http://www.osengines.com/motors/specifications.pdf) and the instruction sheet provided with the motor are interesting in that NO data is given for the APC 8x8E.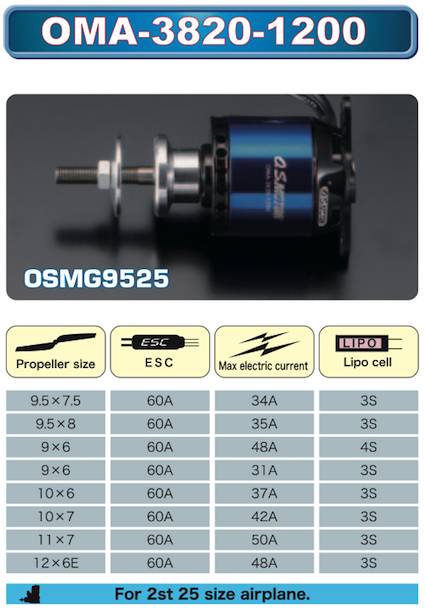 The online information is very limited. The propeller information provided on the instruction sheet packed with the motor is duplicated below.