Not only did the 'manufacturer' not get it right, the US importer's specifications are extremely 'odd'. The importer is Aero-Model, Inc.
Aero-Model is also known as Hacker Brushless USA and www.hackerbrushless.com.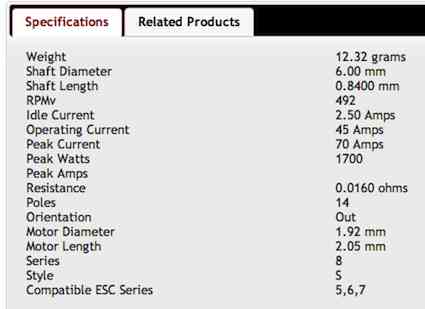 Aeromodel's data for the Hacker A50-12S
Another USA supplier is Esprit Model. The Esprit Model specifications are located at www.espritmodel.com/hacker-a50-s-series-motors.aspx.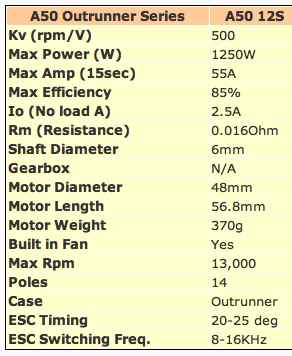 When using the supplied data from all three sites, it is very difficult to determine how to use this motor safely.
Hacker in Germany does not give a continuous amp or burst amp rating. They hint that 70 amps might be the maximum by noting that it requires a 70-amp ESC.
Aero-Model states, "Operating Current 45 Amps" and "Peak Current 70 Amps".
Esprit Model states that the maximum amp draw for 15 seconds is 55 amps.
Hacker and Esprit Model indicate that the maximum power is 1250 watts in, but Aero-Model states 1700 watts in.
Keep in mind that Lynn Morgan has been running his motor, with no problems, for a long time and many, many flights at a static maximum of 1550 watts in. His data log shows that he very seldom reaches that peak during his pattern routine.
Hacker Specifications and Other Motor Information
Weights and Measures: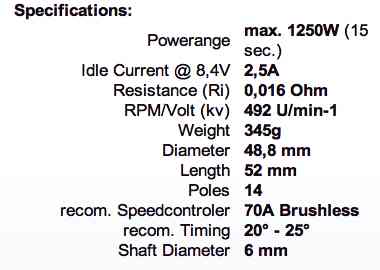 The specifications on the Hacker Germany Web site showed a motor weight of 345g. The motor in hand weighed 373g with its leads and three 4mm bullet connectors.
The drill press measured and calculated Kv was 507.6 and Drive Calculator calculated 506.9, once the collected data was input.
The Hacker site suggested 20-deg to 25-deg of timing. The Castle Creations Ice 50 used in the data gathering was set to low/0-deg timing.
Generic naming helps to identify similar motors.
The correct Hacker A50-12S generic name (can diameter mm, can length mm, dash Kv, wt. in grams) is Hacker 4954-505, 370g.
The Actual Testing
The first test was the Kv test using a drill press.
Next an Emeter II was used to gather all the data, NOT the onboard data from the Castle Creations Phoenix Ice 50 amp ESC.
Two no load runs were logged and averaged for the no load inputs into Drive Calculator. A 6S "A123" pack was used for one of the no load tests and a 6S Li-Po for the other test.
&nbspThe 6S Li-Po was used to gather the loaded data.
Four props were logged, in this order, on the same battery charge, APC 10x7E, APC 11x7E, APC 12x8E and APC 13x8E. They were then averaged and used as the prop load inputs for Drive Calculator.
The testing was done in the basement in Walled Lake, MI, USA.
elevation: about 287m/942 ft.
Temperature: about 15-deg C/59-deg F
Data was submitted to Drive Calculator, Christian Perrson, in early March, 2013.
Jim had hoped to use this motor with a Castle Creations Ice 50-amp ESC and an APC 13x8E prop. An APC 13x8E was the last one used for data gathering and was recorded at 21.37v (3.56v per cell), 48.5 amps and 9377 RPM. With Drive Calculator inputs of 22.2v and a change of temperature to 24-deg C/75-deg F the prediction for the APC 13x8E is 22.2v, 49.3A and 9692 RPM.
This could be okay with Jim's 50-amp ESC, but I suggested that he might want to try an APC 13x6.5E first. Drive Calculator, set to 75 degrees F and our elevation, predicts an amp draw in the low to mid-40s and an RPM in the neighborhood of 9900. This yields a pitch speed of about 61 mph, which is plenty fast enough for this biplane.
In a phone conversation with Keith Shaw a few days later, he suggested an APC 14x7E, if prop clearance allows. Drive Calculator, at our elevation and 75-deg F predicts 22.2v, 54 amps and 9570 RPM. Actual power meter testing should be done with this prop and then it's up Jim whether he wants to push his ESC or not.
A report on what prop Jim Young decides to use will be in an upcoming issue of the Ampeer, once the weather breaks here in southeastern Michigan.
With the data for this motor now in Drive Calculator, various battery and prop combinations can be tried at elevations and temperatures appropriate to where and how the motor will be used.
The prop chart was created using Drive Calculator set for our elevation here in southeastern Michigan, 287m and a temperature of 24-deg C/75-deg F.
As always, a power meter is a must before deciding to fly any given prop. The prop chart is ONLY a guide.
Hacker implied the use of a 5S or 6S Li-Po battery by noting 17.5v and 21.0v in their examples.