Once the airframe was completed and covered, I added the finished weights to the spreadsheet.
Carlos recommends a specific power system in the book and is offering it as a part of his packaged deal. (See his press release above.)
Carlos' power system, ESC and servo package was not available when I created my version of the ModiFly.
Like all things in life, you have to make choices. I am having great success with Scorpion motors, so I looked at the smallest series they have. It is the S-2205 series that weighs 32g. I played with the numbers for the various winds in Drive Calculator (www.drivecalc.de) and decided on the S-2205-40 1550Kv motor (more on that later).
I decided that I wanted to try and get all of my onboard radio system and power system components from one source, Todd's Models, since he appeared to have all the items that I wanted.
(www.toddsmodels.com)
While I know that there are cheaper Li-Poly batteries available, Todd's carries the Thunder Power brand. I chose a TP Prolite V2 TP480-2SJPL2 Li-Poly Battery. Todd's Models gives the weight as 28g. I chose this pack because it has a balance node connector, which I feel is essential on all Li-Poly batteries, and it is also required by my FMAdirect CellPro 10S.
I added to my order what I thought were the most appropriate props for the S-2205-40, 3 Hitec HS-50 servos (I wanted to use 3 servos instead of 4), a Spektrum AR6100 receiver and a Castle Creations Thunder Bird 9-amp ESC.
Later that day I received a courtesy call from Todd letting me know that he did not have the motor that I wanted in stock. Thanks for that call Todd. That was very thoughtful!
I played around with Drive Calculator once again and changed the goal or mission for my version to a "sports car" ModiFly. I decided to go with the S-2205-32 1980Kv.
I ordered it, along with what I thought were the appropriate props from Dan at Go Brushless (www.gobrushless.com), another of my trusted suppliers.
I completed the plane while the electronics were in route.
It should be noted that I had great service from both suppliers and highly recommend them.
The first thing I did when I received my new Scorpion S-2205-32 was the drill press test for the Kv. I found it to have a 2002Kv. That was a little higher than I had planned on.
The motor was attached to the motor mount of the completed airframe with four wood screws and washers behind the top of the "+" mount on each side of the top for down thrust. The motor with its "+" mount, bullet connectors, four wood screws, four washers, Cox 6x4 prop and collet type prop adapter, not wobbly, weighed 48.45g/1.7 oz.
Using my Emeter II, I gathered the following information about the motor and entered my data into Drive Calculator.
No Load
Partially charged 2S1P Li-Poly average -
7.56 volts 0.82 amps 14,828 RPM
Kv = 1961 (using no load volts & RPM)
Fully charge 3S1P "A123" 2300mAh average -
10.044 volts 0.88 amps 19734.4 RPM
Kv = 1965 (using no load volts & RPM)
Scorpion states that the Kv is 1980 and Innov8tive Designs says 1979. It looks like we are all playing in the same corner of the sandbox.
Prop Data Averages
Note that all of the prop data was gathered from the same charge on the battery and does not illustrate the maximums with any particular prop, except the APC 7x4E that was the first one to be tested.
Just the raw data was required to input the numbers into Drive Calculator. Five data collections were made for each prop and then averaged. That is why you'll see a decimal point in the RPM and thousandths in the volts.
GWS 7x3.5 DD: 7.27 volts, 6.42 amps, 11413.2 RPM, pitch speed 37.8 mph, system eff. ~70.6%
Cox 6x4 Gray: 7.128 volts, 6.94 amps, 10857.6 RPM, pitch speed 41.1 mph, system eff. ~69.2%
APC 6x5.5E: 6.948 volts, 7.56 amps, 10172.2 RPM, pitch speed 53 mph, system eff. ~67.2%
APC 7x4E: 7.404 volts, 9.92, amps, 9825.8 RPM, pitch speed 37.2 mph, system eff. ~61.9%
Safety and Longevity Specing the Power System Using the 80% Rule
Motor: Max. Cont. Current 12 amps * 0.8 = 9.6 amps
ESC: Max. 9 amps * 0.8 = 7.2 amps
Battery: Max. C = 20 * 0.8 = 16C, 0.480Ah * 1.6 = 7.68 amps
Capacity to be used: 480mAh x 0.8 = 384mAh
The numbers suggest that the GWS and Cox props can be used and should provide a good safety and longevity margin. The numbers for the APC 6x5.5E also suggest that I may want to give it a try for the "full sports car" version if I am willing to risk some of my investment. Obviously, the APC 7x4E should not be used.
While doing the prop tests, I noticed that the Cox 6x4 had a great deal more pull than the GWS 7x3.5DD, so I decided to start with the Cox prop. I recharged the pack. To allow for the quick drop in voltage on a freshly charged pack, I gathered 6 data points at approximately 5-second intervals and averaged the results; 7.50 volts, 7.57 amps, 11,257 RPM. I then compared those actual numbers to what Drive Calculator predicted; 7.5 volts, 7.6 amps, 11,238 RPM. I'd call the DC model pretty good!
With these numbers the pitch speed is 42.6 mph, Watts in 56.7, Watts out ~38.8 for a system efficiency of ~68%.
A hole was "melted" into the wing and fuselage top for the aileron servo using a soldering iron. I measured and marked where the servo was to be placed, cut craft sticks to outline the hole and act as a guide for the soldering iron tip, used spray adhesive to hold the craft sticks in place and melted out a perfectly fitting hole for the aileron servo. I also "melted" out a small hole in the fuselage side for the aileron servo lead to pass through.
I mounted the aileron servo into the snug hole with clear silicone adhesive holding the servo in place using the tabs on the servo that would normally have screws through them. The aileron push rods were fabricated using 0.039" music wire with "V" adjustments for fine-tuning and attached to the homemade control horns that are epoxied into the ailerons. The rudder and elevator push rods were fabricated in the same way and then the servos were attached to the top of the fuselage using double-sided tape. This allowed the rudder and elevator to be in neutral when attached to the top of the fuselage. The Hitec HS-50 servos, with the small "+" arms and screws weighed 7.1g each. I used 26-3/16" of music wire to create the push rods with a total weight of 3.93g. The completed canopy/turtle deck was then glued onto the top of the fuselage with Titebond.
Velcro was added to the battery, and the battery pressed into position. With its two cutoff APP connectors and Velcro (both on the battery and what went on the fuselage as well), the battery weighed 33.45g/1.18 oz.
Finally, the Spektrum AR6100 receiver (3.75g) and Thunderbird 9 ESC with 3 bullet connectors and two cutoff APP connectors (13.15g) were double side taped to the right fuselage side. Small cable ties were used to "neaten" up the wiring.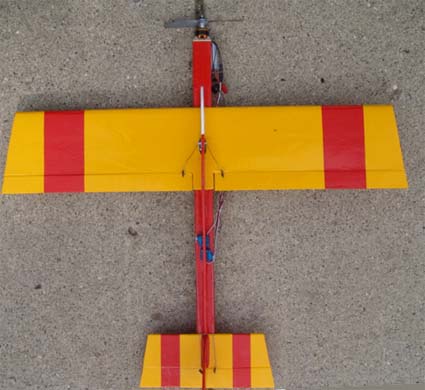 The Ready To Fly weights:
Completed Airframe: 110g/3.88 oz.
Power System w/ESC: 95.05g/3.35 oz.
Receiver, servos, push rods: 28.98g/1.02 oz.
Total: 234.03g/8.26 oz.
Actual Measured weight: 235.1g/8.29 oz.
Actual Measured weight w/lateral balance nails: 240.05g/8.47 oz.
Wing Area: ~174
Area Wing Loading: 7.00 oz./sq.ft.
CWL/wing cube loading: 6.38 oz./cu.ft.
(typically park flyer near heavy end of range)
Watts in (Cox 6x4) measured: 56.7
Watts in per lb.: 107
RPM (Cox 6x4) measured: 11,257
Pitch Speed: ~42.6 mph
Stall Speed: ~9.8 mph
Pitch Speed to Stall Speed Ratio: 4.35:1
My Modifications

1. Top Flite Econokote was used to cover the airframe and make folded hinges for the ailerons, elevator and rudder.
2. The wing step width was reduced to 2-1/8" to allow for some setback of the leading edge dowel.
3. Water thinned Titebond Original Wood Glue was used for laminating, 30-minute Epoxy for attaching the wing, horizontal stab, vertical stab and motor mount to the fuselage and Titebond to attach the canopy/turtle deck.
4.) I chose a completely different "mission goal" for my version with a totally different power system.
5.) I chose a different brand of servos and ESC.
6.) I used 3 servos instead of 4.
7.) Push rods with "V" bends were used to allow for field adjustments of the trims. I prefer to adjust the flight control surfaces and keep the trims neutral on the transmitter.
8.) The wing tips, horizontal stab/elevator and vertical stab/rudder were angled instead of rounded.
9.) The aileron width was changed to 1-1/4" because they extend to the tips.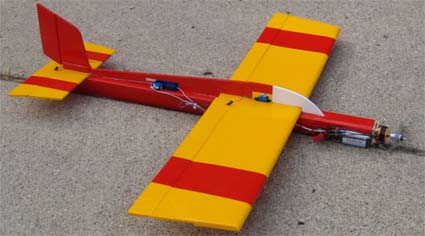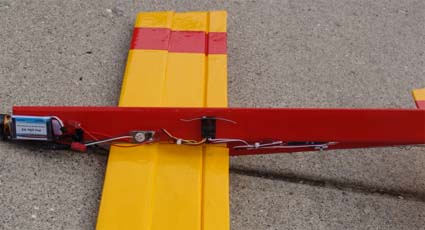 If I were to do the plane over again today, I would use a Scorpion S-2205-36 1750Kv motor. Using the -36 would allow me to use a wider selection of 7- and 8-inch diameter props that are available today. The Cox 6x4 is no longer available. I would move the rudder and elevator servos back one inch.
Flying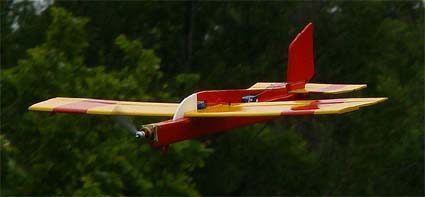 The Myers' ModiFly was maidened on July 4th. It was a great day for a maiden. The slight breeze was variable, but it was usually right down the runway, and the temperature was in the low 70s. I had my flying buddy, Jim M., hand launch it for me. It headed pretty quickly towards the ground, but a yank on the stick brought it up and flying. Most of the first flight was spent trimming it out. It flew fine, but I wanted to get it trimmed well so that I could adjust the push rods when I landed. I set the timer for 3 minutes and the landing was easy and uneventful.
I tweaked the control rods and removed the motor's down thrust for the second flight. My version flew much, much better with no down thrust.
I flew 4 more flights, setting the timer for a minute longer for each flight and then checking the capacity returned to the pack by the CellPro 10S. The last flight was for 7 minutes. A recharge after that flight showed that 425mAh was returned to the pack. The average amp draw for that "typical" flight was 3.64 amps. Since I only want to remove about 380mAh from the pack, I am using 6 minutes and 30 seconds as my flying time.
The plane flew well and I did most of my usual sport maneuvers; stall turns both directions, inside loops, outside loops, consecutive rolls in both directions, snap rolls in both directions, avalanche, inverted flight, Immelmann turns, split "S"s, slow flight figure 8Ős and Cuban 8's. I tried to spin it twice, but I don't think I got it fully stalled either time, as it never really "broke" into a spin, but it just did a downward spiral.
One July 5, I put four more flights on the plane. I found the plane easier to hand launch at about 2/3 throttle. I also found out that flying with all surfaces on Low Rate on the Spektrum DX5e gave me a smoother flying plane.
When I returned home, I decided to laterally balance the model, to see if I could get it to fly more precisely. I added one 8D 2-1/2" finishing nail and one cut to 2" to achieve the lateral balance. The 2.5" nail weighed 2.35g and the cutoff 2" nail 1.9g for an additional 4.25g to the RTF weight.

The photo shows the whole nail already inserted into the foam of the left wing tip and the partial nail taped on to check the balance. Both nails were inserted just ahead of the spar dowel, very close to the CG.

Close up of inserted nail & partial nail
I took the laterally balanced plane to the field on July 8 for five more flights. It is flying much better now and does not have a tendency to corkscrew out at the top of loops.
All in all this little plane has been a very pleasant experience and well worth the build.
Return to "What's In This Issue"
The June EFO Flying Meeting
The June EFO flying meeting was scheduled for June 20, but it was a rainy, windy Saturday. The meeting was rescheduled to the June 27 and it could not have been a more perfect day!

Denny Sumner had out his new, all foam "North Star" for its maiden. It flew great! His Ryan's Daughter kept it company at the field.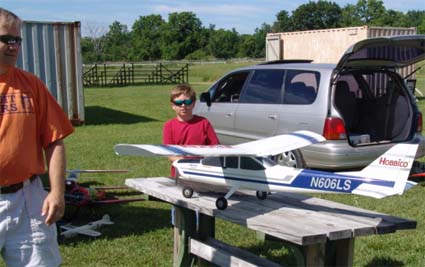 Jim and Tim Young had a lot of fun flying Tim's trainer.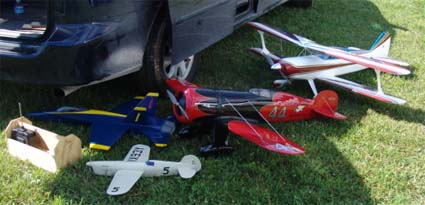 Jim also had several of his fantastic flying planes with him on this perfect flying day.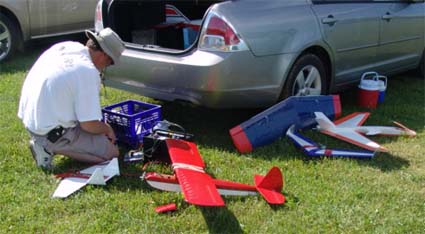 Dave Stacer brought along quite a few planes as well. His SR Batteries AcroPro is in the front with several "foamie" wings. The ElectroFlying Fusion was about to be unloaded from his Ford Fusion.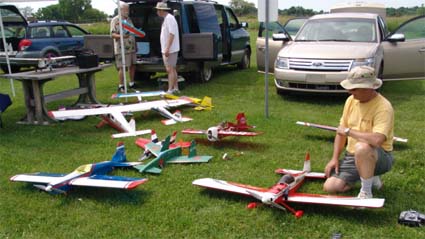 Rick Sawicki had his fleet out as well.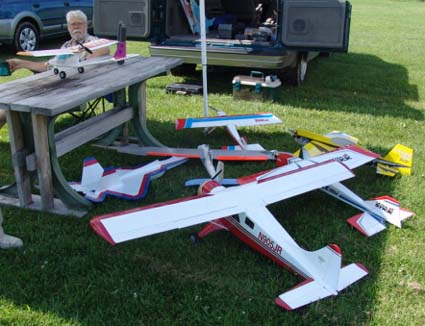 It certainly was a day for fleets, as Paul Sockow looks over his.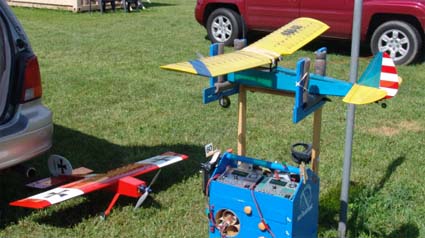 Roger Wilfong flew the heck out of his SR Batteries Cutie and ElectroStick.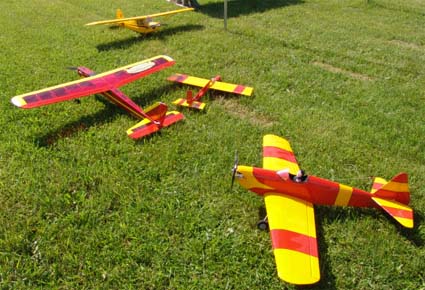 Ken Myers had out his Fledgling trainer for use by student pilots. He also brought along the finished ModiFly airframe and his Son of Swallow.
John Quisenberry flew his E-Flite J-3 Cub. It is a fine flying plane and fairly decent trainer.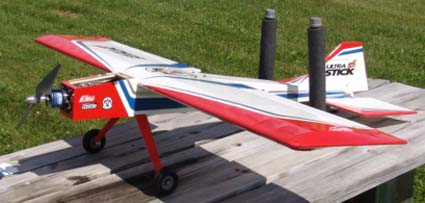 Jesse had his Ultra Stick 25e up for several flights.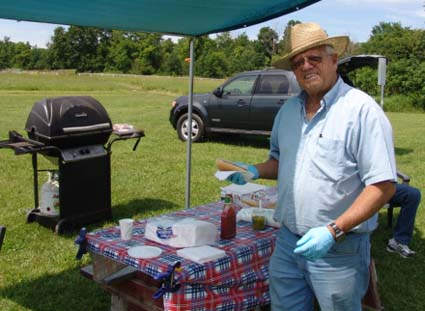 Jim Lapham grilled us hot dogs for lunch and we washed them down with lemonade. What a nice and welcome surprise! Thanks Jim!
Richard Utkan and Jim Maughan also brought out several planes and had a great time flying them. Jim really loves his Mountain Models Senior Switchback.
No one wanted the day to end. It was absolutely wonderful. This is a great hobby and a fantastic way for a group of folks with a similar interest to get together.
Return to "What's In This Issue"
Own a Bob Aberle Review Plane
From Bob Aberle baberle@optonline.net
631-724-7517
Bob Aberle needs to "clean out" his fleet and has five planes that he's reviewed for various publication for sale. He is willing to ship them, but it would be even better for you to pick them up at the N.E.A.T. Fair in is Downsville, NY on September 18 - 20, 2009. The prices are somewhat negotiable, within reason. Please contact Bob if you are interested.
I've created an Acrobat .pdf file with a full description of each plane, where it is reviewed and what is included. Use the URL noted to "pull up" the .pdf file. NOTE, URLs no longer active for purchase of these planes.
Multiplex-USA BLIZZARD high-performance electric sailplane
blizzard.pdf
Complete ready to fly - with a Hitec OPTIC-6 Tx ($350) or without ($300).
Reviewed in the May 2009 MAN, pages 76 to 78.
HOBBY LOBBY BONNIE-20 -- trike gear as well as a set of Twin Floats and all mounting hardware
bonnie.pdf
Everything but a 72Mhz transmitter ($250)
www.masportaviator.com/ah.asp?CatID=1&ID=39
Horizon E-Flite DHC-2 BEAVER with full scale operating flaps and provision for adding twin floats
beaver.pdf
Needs only receiver and transmitter, all else included ($300)
Reviewed in Model Airplane News
GRAUPNER TAXI CUP-II
taxi.pdf
ARF aircraft, AXI motor, ESC, Battery TP 3S2P 4200 Li-Poly pack -- Hitec airborne RC system, TP battery balancer ($225) www.masportaviator.com/ah.asp?CatID=1&ID=103
Horizon E-Flite "MINI ULTRA STICK"
High performance Quad Flap aircraft with a total of 6 servos (4 in the wing).
mus.pdf
Only needs receiver, transmitter and 3S 2100mAh Li-Poly ($125) www.masportaviator.com/ah.asp?CatID=15&ID=129
Please be sure to check the .pdf files for the exact details of what is included and pricing. I've tried not to make any errors while copying the information here, but the .pdf files have the correct pricing and details. KM
Return to "What's In This Issue"