The voltages in the Drive Calculator's predictions are based on 3.8 volts per cell. That is about the voltage per cell, after the first 10 seconds or so at maximum power for a decent Li-Poly battery of the correct C rating.
When looking at the prop chart, it is important to remember that O.S. rates this motor to 45 amps continuous.
I do not have any Li-Poly packs to actually verify the numbers in the Drive Calculator calculated chart, but they should be fairly close. As O.S. Motor says in the manual, "Be sure to measure the current value with a measuring instrument." Take the Drive Calculator charted values with a 'grain of salt', but then again, I find the O.S. Motor numbers, especially the 10x5E through 12x8E 3S data, extremely questionable!
I have no idea why O.S. motor chose to use 16.8V for a 4S LiPo and 12.6V for a 3S LiPo.
O.S. Motor notes that this motor is equivalent to a .52 4-stroke glow motor. That is a very narrow description for use of the motor.
The problem is the prop diameter. Typically, the ready to fly (RTF) weight of a 'fly on the wing', scale, sport scale, sport plane or trainer with 550 watts in would be between 4.5 lb./72 oz. and 6lb./96 oz. The majority of existing designs would not have the necessary ground clearance for a 14" diameter prop.
Using an APC 12x8E and a 4S 4400mAh/4500mAh LiPo is a good way to go for maximum input with this motor. Drive Calculator data: 15.2V, 49.2A, 747.5Win, 9552 RPM. This power system could handle 'fly on the wing' planes up to 7 lb./112 oz. quite easily and falls within range of what O.S. Motor might be calling .52 4-stroke power.
One way of estimating an equivalent power is; 747.5 / 2000 = 0.374 2-stroke equivalent * 1.5 (factor for 2-stroke to 4-stroke equivalent) = 0.56 4-stroke.
Regarding the 49.2 amp draw, when a real LiPo is used there is a relatively large voltage drop in the first few seconds of the discharge. It is typical for user data to be gathered with a power meter within the first 10 seconds to 20 seconds of a battery discharge.
Since the current would never be higher for any extended period of time, this should not be a problem.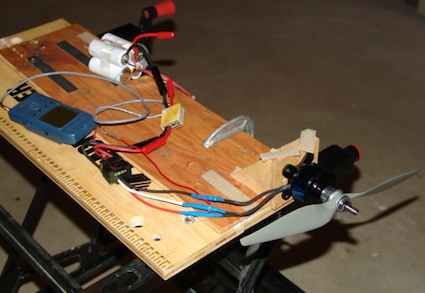 Power System on static bench testing stand
This motor is going to be used with an APC 13x8E and 4S "A123" 2300mAh battery. A 3S LiPo and 4S "A123" 2300mAh have approximately the same input voltage, 11.4V, when read in the first few seconds of discharge under load. DC data: 11.4V, 41.3A, 470.6Win, 7254 RPM. My discharge about data about 3 seconds after the maximum amp draw showed 10.82 volts, 37.7amps, 410 watts in and about 7,000 RPM. Using the same math as above; 410 / 2000 = 0.205 2-stroke equivalent * 1.5 = 0.3075 4-stroke. I will be using this motor with a similar power to a 4-stroke .30.
Return to "What's In This Issue"
Regarding Replacements for AF 15G Motors in a Bell YFM-1A in the January 2013 Ampeer
From Robert Comerford via email
Ken,
I have just a couple of extra thoughts having just read your Jan.13 Ampeer.
Regarding David Plummer and his replacements for geared Astro 15's. I might start with this one attached to the Astro gearbox. It is the Turnigy 480S BL Inrunner Motor w/ Impeller 1500kv.
I would be looking at 4S A123's, that is guessing that he is using 11 or 12 inch 3-bladed props.
Also have you noticed pages 9 and 10 don't follow??
regards
Bob
Thanks for the recommendation that I'm passing along. Also, thanks for the heads up on pages 9 and 10 of the .pdf version. Got it fixed, thank to you! KM
Return to "What's In This Issue"
Feather Merchant
From Art Lane via email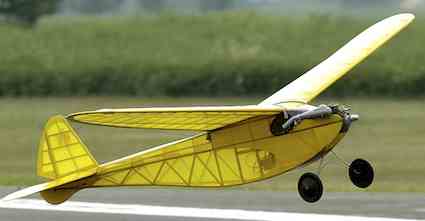 No you are not seeing things.
That is the glow engine, before the conversion was completed.
Hi Ken,
A recent Ampeer had an article on a fellow with his "Privateer". This is the first plane Ted Buck built and had many years of great flying with.
I was given a 90" Feather Merchant by one of my closest buddies before he died. I had originally used this plane for SAM events at our field and a couple at the Michigan SAM club.
Four years ago, after changing all models to electric, I decided to Electrify the FM. The weight of this model is 6 lb., wingspan, 90" and it's a beauty. The fellow who built it was a master craftsman, and you can tell by the pictures, his expertise in building.
I decided to purchase a Thrust 20 for this model and after quite some time, it came from Australia. The Thrust 20 is all the power it needs with a 11x3.8 on it powered with a 3C, 2200mAh LiPo and using a 36Amp ESC.
I keep reading about these A123 batteries and am itching to try them, but can't find them here in London, Ont. (Any idea where I can get em?) And, what charger is used to charge them up? I have a new charger now, I believe I told you about it.
Pictures of my Feather Merchant are scarce, I accidentally cleaned up my picture folder and deleted them. Luckily, I found em, on a disc from MAAC, 2006 Nationals.
As I said, I used the Thrust 20, could have used a Thrust 30 but the 20 does fly it with authority.
Now, as for the A123's, we do have a DeWalt dealer here in town and I will check him out for availability.
Hope they aren't too pricey, this stuff really is here in London.
Anyway, just thought you'd like to see, and hear what I did with my Feather Merchant.
Art
Return to "What's In This Issue"
Feather MerchantChina Clipper Q500 and an Extra 300XS
From Willie McMath via email
Hello Ken,
Here are some pictures of my new project, a China Clipper Q-500, that I raced years ago. It shows Ace nylon spacers for mounting the motor.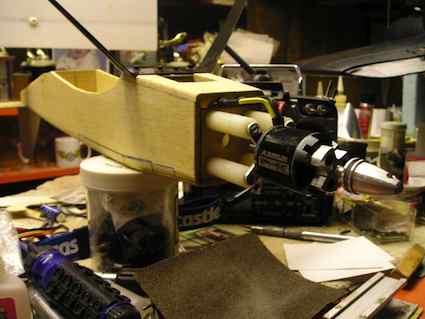 Also photos of my Extra 300xs that I built years ago. It used the nylon spacers also. It had where the battery hooked up in bottom of cowl. I decided to change from A123's to two LiPos. I modified it so I can charge and hook up the batteries from the back. I feel it is much safer.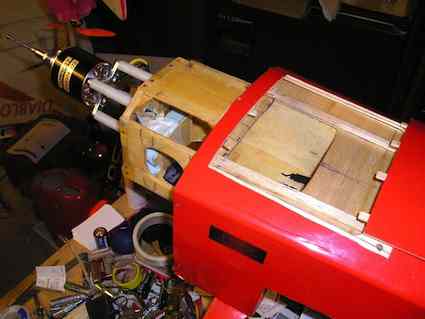 Hooking up farther away from the prop is always a good idea. I'm pretty sure you didn't mean that you were going to charge your LiPos in the plane. That is a BAD idea! KM
Return to "What's In This Issue"
Looking for RC Micro World?
From Willie McMath via email
I was trying to find Bob Aberle's reduced size (150 sq.in.) Phil Kraft KWIK FLI MK-III article in RC Micro World. He had written to me about it back in October.
The old Cloud 9 URL didn't work! With a bit of poking around I found that RC Micro World is now at www.fullsizeplans.com. The site is called Cloud 9 RC Micro World & Full Size Plans.
Be sure to check it out soon. It's a good 'un.
Return to "What's In This Issue"
One Cure for Motor "Rumbling"
From Greg Gimlick via email
Hi Ken,
I was reading the Ampeer and the discussion you were having with Kyle (Nov. 2012 Ampeer) where he responded with this:
"I ran the motor and battery and when I got to full throttle the motor sounded like it was rumbling. At about 3/4 throttle, all was good and it was producing nice power. Once I hit full throttle, the rumble started again. I've got my ICE 100 set to low timing (0) and PW set to outrunner. Cutoffs are set to hard. They were set to soft for prior flights and LVC is set to 3.2. Even with the rumble itŐs still pulling the plane like no other.
Bench test showed approximately 1800 watts in, 84 amps and 22 volts. That was peak for about 2 seconds because I wasn't sure if I should leave it at full throttle with the rumbling. Any ideas on what that could be?"
I suspect the problem is that he has the PW(M) set at "outrunner" which is too high for the 160 motor. I am confident this is the problem as I had it happen to me a couple years ago with a Power 160. I chased my tail over it until I discovered how to figure out the proper PWM.
PWM stands for Pulse Width Modulation, which some ESC manufacturers call "switching frequency". The ESC uses PWM to control the power going to the motor and breaks the current going to the motor into separate pulses that occur about 13,000 times per second. Many ESCs have a a way to select the PWM frequency for the motor being controlled. It varies by manufacturer. How to change it is usually in their documentation, but the default is usually correct and often designated by an "*". Most motors on the market today are "outrunner" types, but they don't always require "outrunner mode".
Castle Creations provides information that helps to determine the proper setting, "Use outrunner mode when the commutation frequency will exceed the PWM frequency by a significant amount. If the commutation frequency exceeds the PWM frequency by about a factor of 2 or higher, outrunner mode will perform better."
How is the commutation frequency derived?
This is the formula: (number of motor poles * motor_RPM) / 20
Here's an example of how that will work:
(8 * 24000) / 20 = 9600
An eight pole motor, running at 24,000 RPM will have a commutation frequency of 9.6kHz (9600) commutations per second). This motor should run just fine on 8kHz or 12kHz PWM.
A twelve pole motor, running at 30,000 RPM will have a commutation frequency of 18kHz.
(12*30000) / 20 = 18000
This motor might benefit from Outrunner mode.
Hope that might help him out. If he selects a lower PWM in the ESC, I think the rumbling will go away.
Take care,
Greg
Return to "What's In This Issue"
Power Meters and a Bristol M1C
From Art Lane via email
Hi Ken,
(Referring to the October 2012 Ampeer. KM)
It looks like a whole pile of new info on Watt meters, but nothing I could cram into my wee brain. I use the old, trusted E-Flite watt meter, a simple one with readings I can understand, I think. After reading your latest, I'm wondering if I should investigate this new one?Ę Why should I, was my question.
There seems to be more info in there that I don't understand. Being just a "Fun Loving Electric flyer" I don't think I should go that route. Or am I missing something?
The November issue had the review of the AEO P1 HV Watt Meter. What you should have gotten out of the article is that it is not very accurate and difficult to use. I believe that you did get that! The Electrifly PowerMatch, which was reviewed in the December 2012 issue is a much, much better tool than the E-flite Watt meter you have now. KM
Those winds you had moved our way and really curtailed our outdoor flying for October. None the less, it has given me time to start another project, similar to my 50" sBach. It also is a profile, kinda scale, model of a Bristol M1C. It is a plane I've always liked, especially after having a Balsa USA one with an OS 80 4-stoke. Since the electric bug has bitten, I've gotten rid of all gassie stuff and only fly electric now.
The sBach has had 12 flights on it, mostly late September and a couple in early October before the winds and rain started. It came out at 4.25 lb. It flies great with the motor I got from HeadsUp and four cell LiPo.
The Bristol is almost done. All of the cutting was done with my "Special" hot wire bow and an old soldering gun with a home made thingamabob for cutting small stuff. So far, the cutting has come out great. It took some time to get used to not shaking while following the lines, but I finally did it.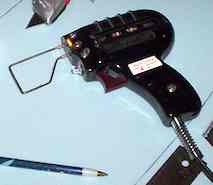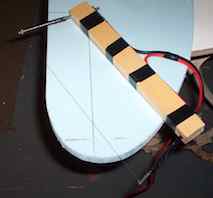 For paint scheme, I'm copying the one that's in the Australian Museum, Red Devil. It is easier to paint and has no special camouflage colors on it.
I plan on using the Thrust 20 on my Bristol. The target weight is hopefully around the 3 lb.
I know both these are both "Profile" models, but this is the easiest way to go for me since I can't use CA anymore or Epoxy.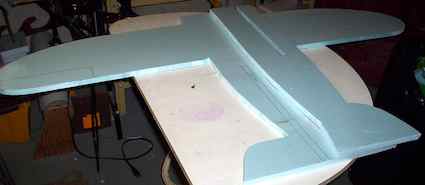 Return to "What's In This Issue"