I weighed, using a scientific triple-beam balance scale, and measured, with a ruler, 15 sheets of printer paper.
Weight of 15 sheets: 68.3g
Measurement: 8.5 x 10.96875 (31/32")
Area of 1 sheet: 93.234375 sq.in.
Weight of 1 sheet: 68.3g / 15 = 4.5533333g per sheet
4.5533333g / 93.234375 sq.in. = 0.0488375g/sq.in.

I cut the wing areas from the printed paper and weighed them.
Top Wing: 13.75g / 0.0488375g per sq.in. = 281.5 sq.in.
Bottom Wing: 10.1g / 0.0488375g per sq.in. = 206.8 sq.in.
Both Wings: 23.85g / 0.0488375g per sq.in. = 488.35 sq.in.
Based on all this information, I believe the model's wing area to be between 480 sq.in. and 490 sq.in. If I had the actual model wings in hand, I could confirm this.
Conservatively using 480 sq.in., the area loadings, based on Great Planes' ready to fly weights are:
Wing Area Loading 60 oz. = 480 sq.in. = 3.3333333 sq.ft. = 18 oz./sq.ft.
Wing Area Loading 72 oz. = 480 sq.in. = 3.3333333 sq.ft. = 21.6 oz./sq.ft.
Those numbers are significantly different from the wing loadings of 25 oz./sq.ft. to 29 oz./sq.ft. noted by Great Planes.
Wing Cube Loading Factors:
Wing Cube Loading Factor 60 oz. = 6.0858062 = factor 9.86 (typical at the high end of the sport/sport scale category)
Wing Cube Loading Factor 72 oz. = 6.0858062 = factor 11.83 (typical for advanced sport/sport scale plane)
The August 2014 issue of Model Aviation had a review of this plane starting on page 50. The author, Tom Sullivan, appears to 'parrot' Great Planes data for the wing area at 352 sq.in. as there is no mention of him verifying it in the brief article.
Tom also noted the ready-to-fly weight but without the battery pack, "The aircraft weighed a respectable 3.25 pounds without the battery." 3.25 lb. is 52 oz. He never stated the battery pack weight in the article. I had to look it up online and found that the ElectriFly 3S 2200mAh 30C LiPo battery weighs 6.1 oz. That brought his RTF weight to 58.1 oz. or 3.63 lb. That is just slightly under Great Planes minimum noted weight.
While the power system components, that Tom used in his version, are noted in the article, none of the important power system information regarding volts, amps, watts in and RPM were given.
I still wonder, "Why can't 'they'?"
More on this P-6E Hawk
A measured wingspan showed up in the previously noted RC Groups thread. It is in post #33. The measured wingspan is given as 1100mm or 43.3 in. That reduces the wing area only slightly from my previous calculations.
Other Threads on RC Groups for the GP P-6E Hawk
Electric Warbirds: P-6E Hawk biplane fighter - New 43" EP from Great Planes
Michael Heer's review of this plane should be posted any day now on RC Groups.
There Is Good Weather and There Is Good Flying Weather
By Ken Myers, Dave Stacer and Rick Sawicki
This is being written the last week in July here in southeastern Michigan. The weather has been beautiful. Highs have only been in the upper 70's all week. There has been some rain on and off, but the mornings have been pretty dry.
Unfortunately, it has not been good flying weather. It has been way too windy most of the time.
I spend a lot of my time at the flying field training. We need low to low-moderate winds for training. It has almost been impossible to 'schedule' any kind of flight training.
EFO members, and my very good flying buddies, Dave Stacer and Rick Sawicki just exchanged a couple of emails regarding the 'weird' weather and weather prognosticators. They illustrate another problem with trying to get in some flying time.
7/26/2014 from Dave Stacer
Today the Weather Rock was 100% accurate. The weatherman was completely wrong, at least for our flying field.
Looking at the weather report last night and this morning, they were predicting 10-15 mph winds and thunderstorms for today (Saturday).
This morning I had no plans to go flying because of the weather report. Then around 10:00 it was nice, sunny and hardly any winds. I loaded up and went to the field expecting only to get a marginal few flights in before the rain started.
4-1/2 hours later I had my fill of flying. Still no rain, lots of sun and the crosswind was gusting somewhat.
Arthur (Midwest president Arthur Deane - KM) was also there with me. We had the field to ourselves. I mentioned to Arthur that the weather rock was accurate and the weatherman was completely wrong.
Arthur was not familiar with the weather rock concept so the following article is very informative.
en.wikipedia.org/wiki/Weather_rock
Today the weather rock was not wet and was not swinging. I think I'm going to pay more attention to the weather rock and less to the weatherman.
The Fusion 380 got three very successful flights today too.
7/28/2014 from Rick Sawicki
Hi Dave,
I just had to resurrect your e-mail and can very personally relate to it today, especially regarding just how WRONG the weather forecasting can be.
Today at noon it was very cloudy and I wanted to cut the grass here at home. I checked 5 different forecasts. ALL 5 said that there was 0 chance of rain. I started to cut it around 2. Guess what? At 2:30, with the grass was half cut, a passing cloud dumped a ton of rain on my 1/2 cut grass, me and my Deere.
That shows what the weather forecasters know. However, I checked "my weather rock" in the backyard in a flower bed. I put one in the day after reading your e-mail. Guess what? It was wet, so I quit for the day.
Weather forecasters get an "F" and the weather rock gets an "A".
Rick
On the same day that Dave enjoyed a great flying day at our home field, Keith Shaw, Denny Sumner and I had been in contact on the preceding Friday regarding Saturday's weather. We were planning to attend the WOW meet, 50 Miles to our northeast. The forecast looked ominous. We made the final decision to go early Saturday morning.
We also enjoyed the same great flying weather that Dave experienced. It sure makes you wonder about forecasters. We should have consulted the weather rock, and all would have been well.
ZIPPY Flightmax 4200mAh 3S1P 30C LiFePo4 Pack Report
From Robert Comerford - Australia via email
Hi Ken,
I'd like to update you on our adventures with LiFePO4 packs.
One of our group, Doug Hall, has equipped his E-flite  Ultra Stick 25e with the following power system.
Turnigy 32G 530kV
TGS APC clone 12x8E
6S 4200 Zippy LiFe pack
YEP 45amp ESC
This combo regularly returns flights around 20 minutes, mostly being thrown around :>)
The meter suggests 510 watts in at 29A. We are above 3500 ft (1070 Metres).
Doug had to make some minor mods to the battery compartment to shoehorn them in.
Hope you are all getting some flying in.
Regards, Bob Comerford - Australia
Thanks for the info Bob.
510 watts in / 29A = 17.586207V / 6 cells = 2.93V per cell. That is pretty close to what an A123 2300mAh cells can do at 29A/30A. I'm seriously thinking of looking into them now.
Keith Shaw's Thoughts Regarding Efficiency and Thoughts On a POSSIBLE Next Project
From Keith Shaw Via Email
This last weekend I flew an air show under very threatening skies. The flights went well and I documented the times and returned capacity in order to estimate actual power use while doing energy management aerobatics.
Stomo: 28% scale model of the rare 1932 German homebuilt. 85" span, 1180 sq.in., 7.3 lb., eight A123-M1A and a Hacker A40 motor, 15x10 prop, 600 watts in WOT (wide open throttle KM). The 8.5 minute routine used 1.570 Ah out of the 2.1 Ah cells. Calculated average current = 11 amps, and average power = 267 watts in. That's 82 watts in per lb. peak and 37 watts in per lb.
Sausewind: 1/5th scale of the even rarer 1925 German racer. 71" span, 780 sq.in., 6.5 lb., seven A123-M1B cells on Cobra 3525, 15x8 prop, 450 watts in at WOT. The 6.5 minute routine used just 0.926 Ah out of the available 2.5 Ah cells. Calculated average current = 8.5 amps, and average power = 180 watts in. So 70 watts in per lb. peak and 28 watts in per lb. average.
Nomad: 1960s Ted Strader design flying with its original Adams magnetic acuator, Astro 010, 6x4 prop, two small A123s rated at 1.1 Ah. The 10 minute flight consumed a whopping 174 mAh. Calculated average current = 1.0 amp, average power = 6 watts in. And by the way, I think the actuator current is 200 mA, so the real average motor current was 0.8 amp, and the flight power about 4.8 watts in!!!!!!!!
Even though I didn't fly it, I thought I'd add one other to put it all in perspective.
CzechMate is 1/6th scale, 62" span, 10 lb., Astro Monster motor on ten 5.0 Ah LiPos, turns a 16x16 prop at 11k+ at 4200 watts in (38 volt x 110 amp). I go through 4 Ah in 6 minutes, so the average current is 40 amp and 1500 watts in. 420 watts in per lb. peak and 150 watts in per lb. average.
This got me thinking, how big of a plane could you fly with a "normal" power system? I consider the upper end of my budget to be something like a 10s2p pack of A123s.
The other thing that has me pondering is the "inheritance" of an Astro brushless 60, a handful of good sized carbon tube, and the itch to experiment with some alternative building methods that have been rolling around in my brain for a few years.
As a baseline, the Bearcat uses a 10s2p A123 pack on an Astro 60 with a belt drive, pulls 50 amp WOT, weighs 15 lb. It does effortless vertical aerobatics, and easily flies for 10-12 minutes with capacity left. 1500 watts in WOT, but about 20 amp and 600W average. So 100 watts in per lb. peak, but 40 watts in per lb. average.
The thoughts of a BIG Waco INF have me pondering. The INF was a later "simplified" plane for the budget market, designed to help WACO stay aloft during the Great Depression. It had no fillets, no cowl, no wheel pants or complex shapes, a functional articulated landing gear, and a simple cup over the crankcase. With a relatively short fuselage and oodles of wing area, even a huge model could fit in my car with all four wing panels unplugging, plug on stab, and functional Aramid rigging. Also Airborne Models (makers of the Toughlon covering that I used on the Sausewind and many others) offered to give me whatever covering I need for new projects.
Assuming 1500 watts in and 60 watts in per lb., gives 25 lb. (400 ounces) and for a good biplane I use a max cubic loading of 6, implying 67 "cubic feet" or 16.5 sq.ft. (about 2380 sq.in.). This is the smallest necessary to meet the handling requirements. That's 1/4 scale for the Waco, span 90", length 62.5, prop 21", 24 oz/sq.ft. Power system and radio would be about 100 oz. Quite ordinary these days.
I'm thinking more along the lines of 1/3 scale, 120" span, fuse length 83", prop 28", area 4200 sq.in. At 25 lb., 14 oz/sq.ft. or a wing cube loading factor of 2.53. World's Largest Parkflier...
I think if I really am careful (and creative) with the structure I could still make the 25 pounds. The removable wing panels are all about 48" span, and the 83" fuse would fit in my car with a good safety margin. The stab definitely would need to be removable as it would be a 44" span! The INF did not have a stab fillet, and the stab trim/attachment is much like a J-3 Cub.
We're not talking "high" scale, no fabric finish or rib stitching. Basic stick box fuse, foamboard bulkheads, dowel stringers, flat tail surfaces, Clark Y on the wings, maybe foamboard ribs, film covering. Homemade belt drive for the large prop, and all the cells wrapped around the drive under the crankcase cap to get the CG right. Servo in each wing panel and each stab half to minimize linkage weight. Articulated landing gear out of carbon tube. Probably heaviest component would be the wheels.
This was a pleasant diversion from packing for my slope-week at the Dunes. More later as I brainstorm while Up North.
Keith
ALSO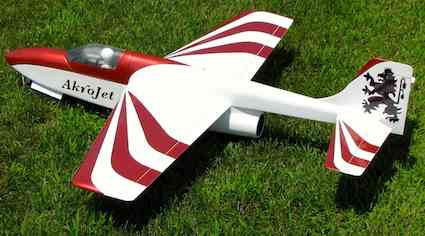 I thought I would send along a few photos of the AkroJet with the "enhanced" color scheme. While it flew well, there were times that the mostly-white plane simply vanished from my sight. Scary. Hope the additional markings make it a little more visible.
Waiting for the endless high winds to die down. It has been hot and muggy with 20+ mph (cross)winds every day for about a week. Tomorrow shows promise.
Take care,
Keith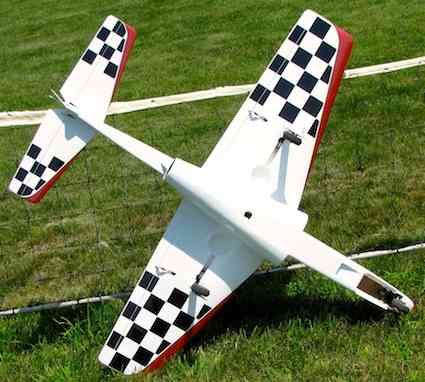 Return to "What's In This Issue"