TUESDAYS, indoor flying at the Ultimate Soccer Arenas, 867 South Blvd, Pontiac, MI.
Sponsor: Skymasters
Indoor Electric Flying at Ultimate Soccer Arenas, most Tuesdays starting on Oct. 24th 2017 thru April 10th, 2018
Time: 10:00 AM - 1:00 PM
Online registration, schedule and indoor flying rules available on line now. Pilots must have current AMA membership.
Season Pass for the 25-3hr sessions $110, 5-session Punch Card $35, Single Flying Session (only available at the door) $10. Spectators welcome free.
Contact: Fred Engleman, Phone: (248) 770-3239 or Email: indoorfly@skymasters.org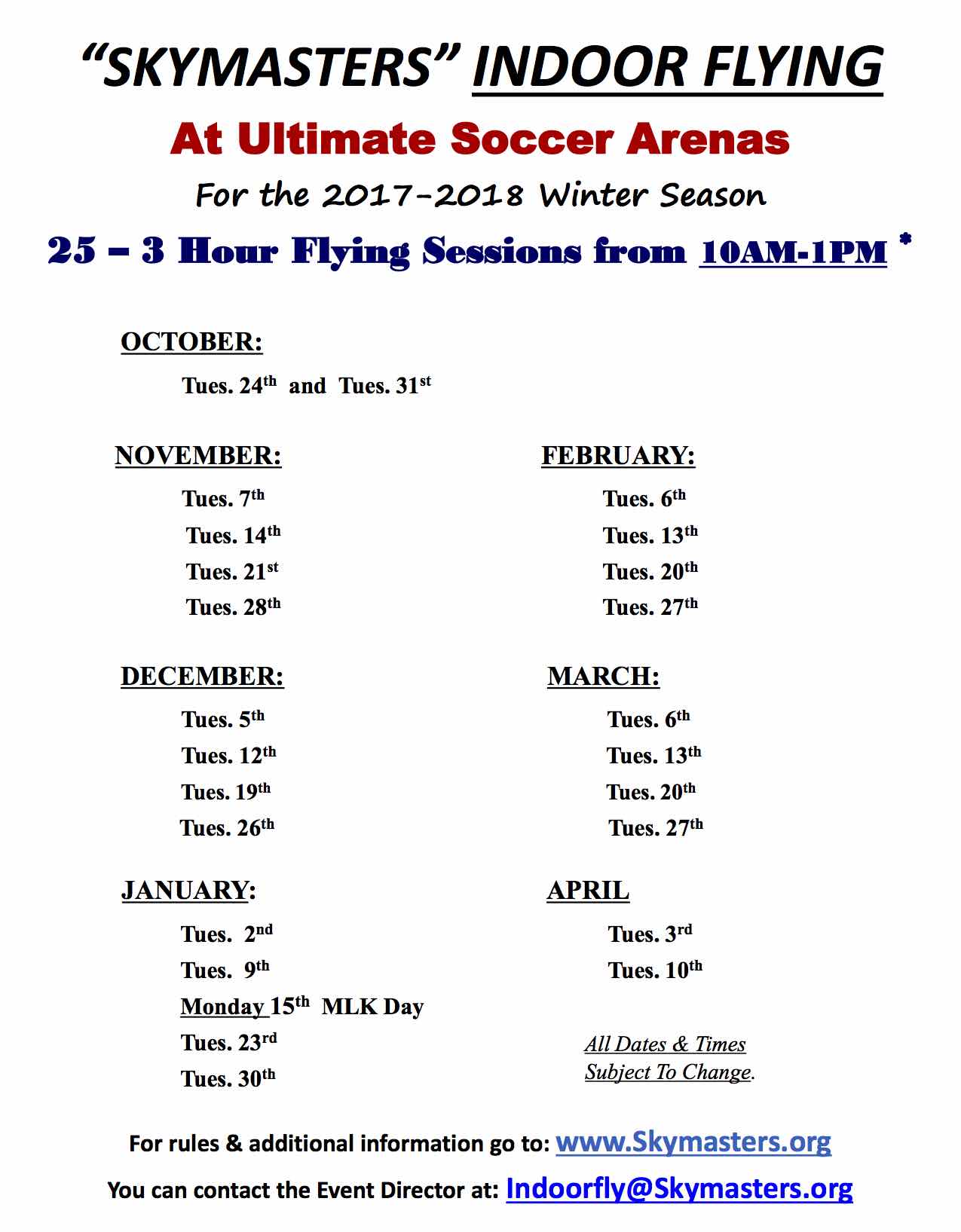 Wednesdays, indoor flying at the Legacy Center, 9299 Goble Dr., Brighton, MI 48116. Flying time: 12:30 p.m. to 2:30 p.m., The cost is $10 per drop-in session or $150 for a seasonal membership.
April 6, 7 & 8, Friday, Saturday & Sunday, Weak Signals R/C Model Expo, SeaGate Centre, 401 Jefferson Ave, Toledo, OH 43604. For more information visit www.toledoshow.com/
April 11 Wednesday, EFO monthly meeting, 7:30 p.m., Ken Myers' house, 1911 Bradshaw Ct., Commerce Twp., MI 48390, 248.669.8124
Anyone with an interest is welcome.
June 2, Saturday, Keith Shaw Birthday Electric Fly-in, Quincy/Coldwater, MI, details.
June 9, Saturday, Skymasters Night Fly-in for electrics and
June 10, Sunday, Skymasters Electric Fly-in, details to follow
July 14 & 15, Saturday and Sunday, 34th Annual Mid-America Electric Flies, details.
August 24 & 25, Friday and Saturday, CARDS (Capital Area Radio Drone Squadron) of East Lansing, MI, 8th Annual Electric Fly In, 8328 Otto Rd. in Grand Ledge, Michigan
More details on their Web site.